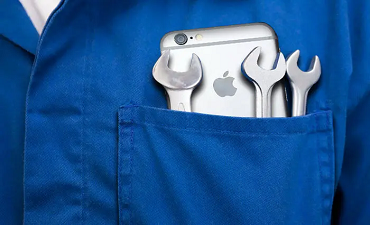 Apple MacBook Repair Service in Bhandup
Introduction:
Our lives revolve around technology in today's digital age, and when our relied upon MacBook encounters malfunction or requires repair, it may be an unpleasant experience.
But don't worry; Computronics Technologies is here to help with outstanding Apple MacBook Repair Service in Bhandup. Computronics Technologies is dedicated to getting your MacBook back up and running in no time, thanks to our warm and pleasant approach. What Makes us Special? Reliable Technicians: One of the key reasons why Computronics Technologies stands out as a trusted MacBook repair service provider in Bhandup is our team of highly skilled and reliable technicians. These experts possess extensive knowledge and experience in handling a wide range of MacBook models, from MacBook Air to MacBook Pro. Their personable nature and friendly demeanor makes them approachable, allowing you to discuss your MacBook concerns freely. Prompt Service: Computronics Technologies recognizes the crucial role of a MacBook in your daily life, whether for business, entertainment, or remaining connected. Which is why we place priority on short turnaround times for repairs. When you drop off your MacBook at their Bhandup service center, our crew goes to work, evaluating the problem and providing you with an accurate repair time estimate. You may have peace of mind knowing that your MacBook will be right back in your hands, in full potential shortly thereafter. Thanks to our speedy repair process, we never keep our customers waiting. Genuine Parts and Quality Repairs: Computronics Technologies believes in using only original components and upholding the highest, most stringent quality standards when repairing your MacBook. To ensure that your MacBook receives the finest possible care, we acquire authentic Apple components straight from authorized vendors. Computronics Technologies ensures optimal performance and endurance for your device by using original parts during repairs. Comprehensive Repair Services: No matter the issue plaguing your MacBook, Computronics Technologies offers a comprehensive range of repair services to address a wide array of problems. Whether your MacBook is suffering from a cracked screen, a malfunctioning keyboard, a faulty battery, or any other hardware or software issue, our expert technicians can handle it with finesse. They possess the necessary expertise to troubleshoot, diagnose, and fix the problem efficiently and effectively. Affordable Pricing: Computronics Technologies believes that quality MacBook repair services should be accessible to all. While maintaining a warm and friendly approach, they strive to offer competitive and transparent pricing for their repair services. When you entrust your MacBook to Computronics Technologies, you can rest assured that you will receive reliable repairs without breaking the bank. Excellent Customer Support: Exceptional customer support is at the heart of Computronics Technologies' commitment to providing a warm and friendly experience. From the moment you walk into our Bhandup service center or reach out to us online, our dedicated customer support team is ready to assist you. They listen attentively to your concerns, offer expert advice, and keep you informed about the progress of your MacBook repair. Computronics Technologies goes the extra mile to ensure that you feel valued and supported throughout the entire repair and maintenance process. Convenience and Accessibility: Computronics Technologies understands that convenience and accessibility are paramount when it comes to MacBook repairs. With our easily accessible service center in Bhandup, you can drop off your MacBook conveniently and have your queries addressed in person. Additionally, we provide online support through our website and helpline, allowing you to seek assistance from the comfort of your home or office. Whether you prefer a face-to-face interaction or a remote solution, Computronics Technologies has you covered. Things to know about Apple Macbook Repair Service Here are some important factors to consider when it comes to Apple MacBook repair: Authorized Service Providers: When seeking MacBook repair, it is crucial to choose an authorized service provider. Computronics Technologies is your top-notch Authorized Service Center that has access to genuine Apple parts and employs trained technicians who are well-versed in Apple's repair procedures. Opting for an authorized service provider like us ensures that your MacBook will be repaired using high-quality components and that the repair process will adhere to Apple's standards, protecting your warranty. Warranty Coverage: Before seeking third-party repair options, it is important to review your MacBook's warranty coverage. Apple offers limited warranty coverage for MacBooks, which typically lasts for one year from the date of purchase. If your MacBook is within the warranty period, it is recommended to contact Apple or an authorized service center aka Computronics Technologies to inquire about repair options covered by the warranty. Attempting self-repairs or relying on unauthorized service providers may void your warranty. Common MacBook Issues: MacBooks can encounter a variety of issues, ranging from hardware malfunctions to software glitches. Common problems include a cracked or malfunctioning screen, battery issues, keyboard failures, and logic board problems. It's helpful to identify and communicate the specific issue with the repair technician to expedite the repair process and ensure an accurate diagnosis. Data Backup: Before handing over your MacBook for repair, it is vital to back up your data. While Computronics Technologies prioritize the security of your data, unforeseen circumstances can sometimes lead to data loss. Backing up your important files, documents, and media to an external hard drive or using cloud storage services ensures that your data is safeguarded and easily accessible, even if the repair requires data erasure or device replacement. Cost Considerations: The cost of MacBook repair can vary depending on the nature of the issue, model, and whether the device is within or outside the warranty period. We at Computronics Technologies typically offer transparent pricing and provide estimates before proceeding with the repair. It's advisable to inquire about the repair cost and compare it with other service providers to ensure a fair and competitive price. Turnaround Time: Repair time can vary based on the complexity of the issue and the availability of replacement parts. Although, we strive to ensure the completion of repairs in a timely manner, but certain repairs may require additional time if specialized parts need to be ordered. It's recommended to inquire about the estimated repair time upfront and communicate any urgency you may have. Post-Repair Testing and Warranty: Computronics Technologies conducts thorough post-repair testing to ensure that the issue has been resolved and that your MacBook is functioning optimally. Additionally, we as an authorized service provider typically offer a limited warranty on the repaired components. Understanding the warranty terms and duration provided by the service center will provide you with peace of mind in case any issues arise after the repair. When it comes to Apple MacBook repair services in Bhandup, Computronics Technologies is a name you can trust. Our Customer friendly approach combined with finesse, expertise and commitment to quality repairs sets us apart from the rest. With our reliable technicians, genuine parts, prompt service, and excellent customer support, Computronics Technologies ensures that your MacBook is in safe hands. So, the next time your MacBook needs attention, visit Computronics Technologies and experience our exceptional repair service firsthand.